Allithwaite Upper Parish Council History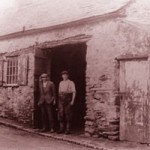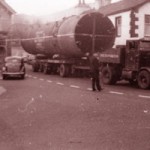 Lindale's major claim to fame is that it was once the former home to John Wilkinson who built the world's first iron ship. John Wilkinson, an ironmaster lived at nearby Castle Head, a mansion once housing St Mary's college. In the 1700s he and his father, Isacc, began an iron industry in the village. A memorial to him sits near the crossroads on the way to Grange.
Read more about the Wilkinson Monument here>>
Lindale church of St Paul was rebuilt and enlarged in 1828. Prehistoric and Roman artefacts were found nearby and are thought to be part of an Anglo-Saxon hoard. The land of Lindale was granted in 1191 to the Crusader Knights of St John. The Chapel first appears on Christopher Saxton's map of 1577. The Church was designed by the Kendal architect George Webster. In 1864 the Chancel was added and by 1912 with the seating proving to be inadequate a north aisle was added. The church itself contains a lot of stained glass, by a variety of artists, but the best piece is undoubtedly one of the single panels by Shrigley & Hunt of Lancaster, which shows a dignified, but vulnerable St Paul.
A P. Hibbert of Hampsfield offered to give the Parish Council a piece of land for a War memorial and that the Parish Council maintain it forever. Mrs Hibbert gave a seat. The Parish Council accepted the offer but had to ask the vicar for right of way across the church land.
Read more about the War Memorial here>
The Coronation Tree area contains the Coronation Tree itself, a double white chestnut tree planted to commemorate the Coronation of Edward VII in 1902 by R.S. Grarigge Esq. Lord of the Manor and an oak tree planted in 2004 by Mrs D.F. Grayrigge the daughter-in-law of R.S. Grayrigge to commemorate the Golden Jubilee of Queen Elizabeth II. The area also contains a History Board of the village.